page inside1page inside2
In this paper, the analysis of the main achievements of "EATON Corporation" on the labor protection is presented.

The main features of the methods of consumers familiarization with the peculiarities of application of Directive 2006/42/EC, EN 954-1 (DSTU EN 954-1), EN ISO 13849-1 (DSTU EN ISO 13849-1), IEC 62061 and other normative documents in order to minimize possible production risks in the operation of production equipment are defined.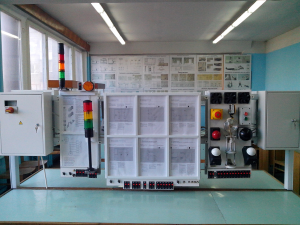 The description of a new training and research laboratory of the safety of production processes in the Department of labor protection, industrial and civil safety of Igor Sikorsky Kyiv Polytechnic Institute, created by means of cooperation with "EATON Corporation", which was organized in order to improve the level of professional training of its graduates, is presented.
Keywords: labor protection, safety, safety functions, risks, safety indicators, educational process.
page inside